Sprawled across an acre on the Baga peninsula, the 51 rooms of the Acron Waterfront Resort, an ITC Fortune Hotel in Goa, provides the very best in modern amenities, all in a uniquely rustic setting that may well become your home away from home in Goa. We ensure that at the Acron Waterfront Resort by ITC Fortune, your every whim and fancy is our priority. Enjoy the sun set over the Arabian Sea, watch the fishermen bring in their catch from the river, or just relax by the pool – whichever your view, it's an experience you will cherish forever.
Special Facilities
At the Acron Waterfront Resort, we have rooms for differently abled guests, and ramp access to the restaurant and other common areas.
Each room has been meticulously designed with hand-painted motifs to reflect an individual touch, and make it one-of-a-kind.
Connecting rooms are available for large families or groups to ensure comfort and privacy.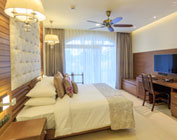 Sea View Room
Overlooking the magnificent Arabian Sea, enjoy an afternoon siesta or get that much sought after tan as you listen to the waves crash while relaxing on the deck chairs
Read more...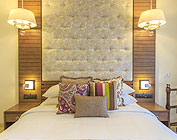 River View Room
Open up your windows to the scenic Baga River, as the fishermen bring in their catch of the day. If you look closely, you may even see the Chef of our riverfront restaurant
Read more...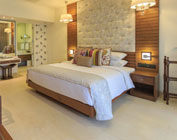 Courtyard Room
Retreat to the perfect hideaway in our secluded garden courtyard. Walk out of your room, and into our luxurious temperature-controlled Jaccuzi
Read more...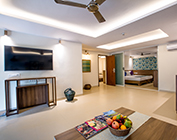 Courtyard Suites: 3 Room Apartments
Our Courtyard suites consist of 3 bedroom apartments nestled in a delightfully intimate garden setting. Read more...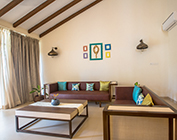 Penthouse Suites: 3 Room Apartments
Our stunning Penthouse Suites, situated on the higher floor provide discerning guests.
Read more...